As part of the Sonic News Channel's continuing coverage of Sonic Boom: Fire & Ice in 2015, editor Ryan Scarlett spoke with community personality SonicWindBlue.
---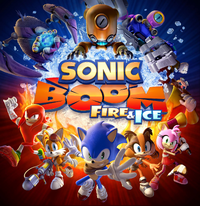 What's your reaction on Fire & Ice's delay to 2016?
I was actually surprised and relieved at the same time. We haven't got any news of this game since June. Several websites changed the release date of Sonic Boom: Fire & Ice before SEGA official announced the delay. Many Sonic news sites reported about the possible delay, so SEGA had no choice and confirm this information.
The Sonic Boom franchise has a really bad image, so I really hope Sanzaru Games and SEGA will take their time to polish and optimize the game.
Do you think Sega handled the announcement of Fire & Ice's 2016 delay properly?
The announcement of the 2016 delay was kinda hidden. The only place where you could find the official statement is the SEGA blog itself. They should have used their social media sites like Twitter and Facebook to spread the information. People are still asking about the game, since they don't know about SEGA's move.
I mean, there are other sources that distributed the news of the delay, but it's hard to reach every single person that way. SEGA should handle those kind of announcements a little bit more open.
The Sonic Stadium reported a rumour claiming Sanzaru Games intentionally delayed the development of Fire & Ice. Your thoughts?
The question is – "Is this rumour really a rumour, or just a speculation?". I'm not denying that Sanzaru Games is currently working on other projects besides Sonic Boom: Fire & Ice. But, this "rumour" builds on the fact that we haven't seen any gameplay footage besides the trailer. That's simply not true.
During Sonic's Birthday Party in Tokyo Joypolis, we got a demonstration of one single level and how the Fire and Ice mechanic is working. Sonic Boom: Fire & Ice looks almost like Shattered Crystal because they reused a lot of assets. They wouldn't have that many troubles to build up a game with the same graphic and gameplay engine.
Maybe the delay have other reasons – SEGA announced many layoffs. The move from San Francisco is still ongoing. Maybe more games for 2016, the year of Sonic's 25th Anniversary? Who knows?
If this "rumour" turns out to be true, then I'll accept the decision, but I just want to be neutral about this whole topic and want to see how it plays out.
---
This article was originally published on 12 October 2015 by the Sonic News Channel, a former subsidiary of the Sonic News Network. Original content produced by the Sonic News Channel was inherited by Tails' Channel as of 23 October 2017.
This article was revised for clarity, and is presented for educational and informational purposes.