After a number of rumours surfaced regarding Sonic Colours, SEGA officially announced today in the inaugural episode of Sonic Central that the decade-old title will receive a remaster.
The remaster will feature plenty of brand new content, like alternative clothing for Sonic to wear and a new "Rival Rush Mode", where the player can race against Metal Sonic to unlock bonus content in the game.
Accelerate to adrenaline-pumping super speed, zoom across challenging worlds, and maneuver through hazardous obstacles. Time your attacks perfectly to charge your boost and reach Super Sonic speeds.

SEGA
Sonic Colors Ultimate will be available as an exclusive on the Epic Games Store, as well as on Google Stadia, PlayStation 4, Xbox One and Nintendo Switch. The game will be also playable on PlayStation 5 via backwards compatibility, and Xbox series of consoles.
There'll also be a special "Digital Deluxe" version for those that pre-order the game, among them being:
Early Access
Exclusive Music
Gold & Silver Wearables
Exclusive Player Icons
Sonic Movie Boost
Sonic Colours: Ultimate is being developed by Blind Squirrel Entertainment, a development team known for their previous AAA remasters, among them being Bioshock: The Collection, Borderlands: Game of the Year Enhanced Edition and Mass Effect Legendary Edition.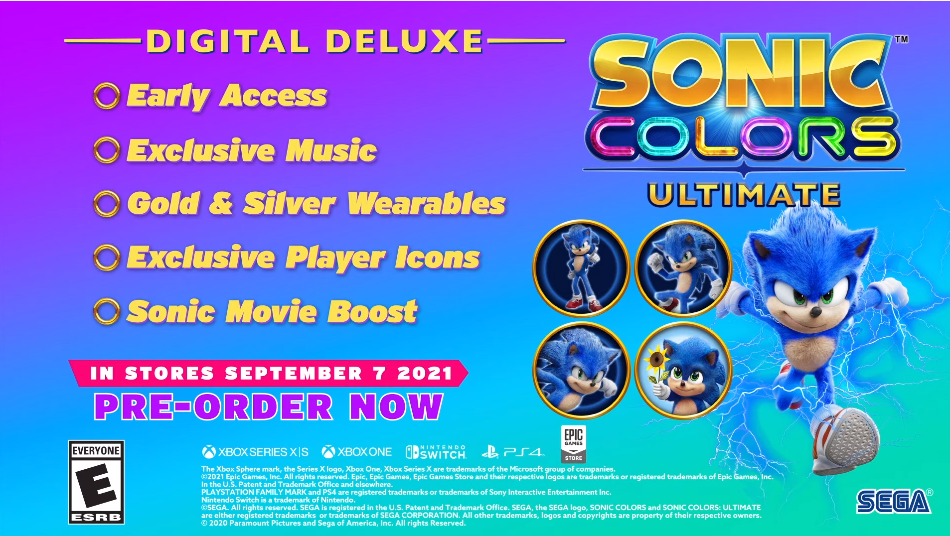 Fans can pre-order the game in a platform of their choosing by accessing this link.
Sonic Colours Ultimate will be released 7 September 2021.
---
Correction: The title will be released to PC as an Epic Games Store exclusive. Earlier press notes from SEGA of an immediate Steam release were incorrect.