A new catalogue of merchandise and collectables for the Sonic the Hedgehog franchise were unveiled today by SEGA Europe ahead of the blue blur's 30th anniversary.
---
The partners span across a wide range of categories, from food to fashion. In a statement released today, SEGA expressed that the 30th anniversary and the following year will be a momentous occasion for the franchise with the help of outings like the upcoming Sonic the Hedgehog movie sequel, and WildBrain's Sonic Prime animation.
This is a momentous year for Sonic the Hedgehog and his fans, and we are incredibly proud to be partnering with so many leaders in their field across such a diverse range of product categories.

Jason Rice, SEGA Europe brand licencing manager
The new partnerships are a part of SEGA's slate of announcements for the hedgehog's 30th anniversary, which will be celebrated by fans around the world later this month. The first batch of deals were announced last September and featured partners like Funko, Dark Horse Comics, and FiGPiN.
"Our partners list will continue to grow throughout the year so look out for more exciting announcements in the near future," said Jason Rice, brand licencing manager for SEGA Europe.
The roundup
Toys and Collectables
Wow Stuff will produce light-up characters on its Wow Pods range, housed in interconnecting display cases,
HoloToyz will produce a range of stickers, decals and temporary tattoos embedded with augmented reality technology compatible with its free companion app,
First4Figures will produce a limited edition resin statue for the 30th anniversary.
In the world of toys and collectables, SEGA confirmed that they have teamed up with Wow Stuff, producing a new line of Sonic characters styled after its Wow Pods range, which will feature light-up toys contained in interconnecting display cases.
A new deal was also confirmed with HoloToyz. They will be releasing a range of stickers, decals and temporary tattoos themed after famous Sonic characters.
First4Figures, a longtime partner of the Sonic series, also confirmed that they will be releasing a brand-new, limited edition 30th anniversary resin statue.
Home and personal care
Character World will produce beddings,
Groovy UK will produce bath robes, towels, and washbags,
Stor will produce tableware,
Corsair will market a new range of childrens' toiletries, like wash mitts and bath fizzers.
In the world of bath utensils and others, several deals have been signed with major players: Groovy UK will bring bath robes, towels and washbags, and UK-based Corsair will release a range of children's toiletries including wash mitts and bath fizzers.
Character World was also confirmed to be doing Sonic the Hedgehog themed bedding, and Stor will bring Sonic tableware for fans who want to decorate their lunch table after the world's most famous hedgehog.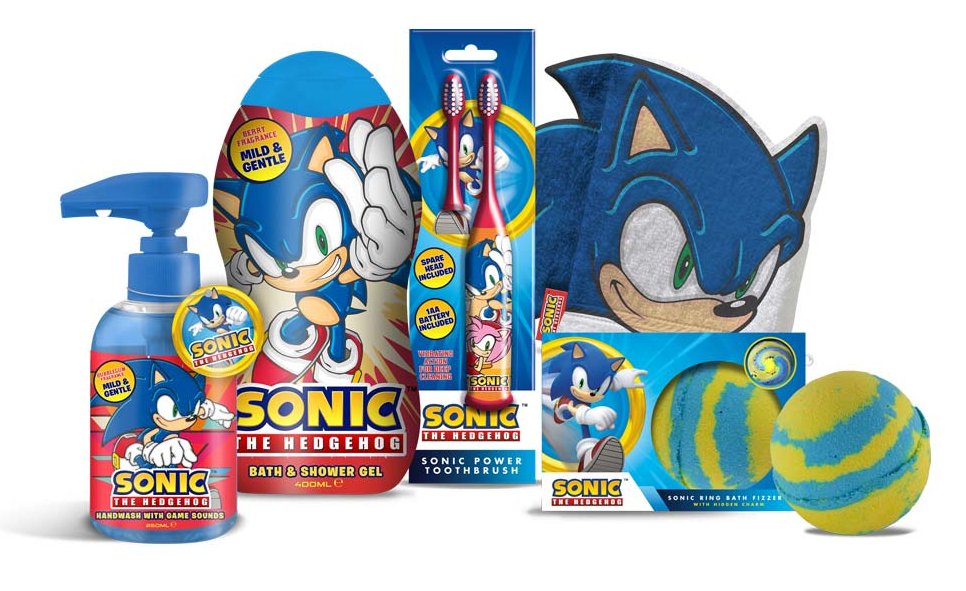 Greeting cards
Fizz Creations will produce gift sets, drinkware, electrical accessories, games and puzzles,
Moonpig will continue to produce a line of personalized greeting cards.
In the area of gifting and greetings cards, new Sonic partnerships have been added by SEGA Europe. Fizz Creations' gift sets, drinkware, electrical accessories, games and puzzles, and Christmas decorations are on the way, whilst leading online retailer Moonpig already launched a successful series of personalized greetings cards.
Food and beverages
Finsbury Foods set to produce branded 30th anniversary-branded cakes into major grocers in Europe,
Previously announced in the first wave of announcements, G FUEL's Sonic the Hedgehog-branded drinks will now arrive to the United Kingdom.
SEGA confirmed that Sonic is also coming to the world of food and beverages, with Finsbury Foods getting ready to release branded celebration cakes into major European grocers later this year, and G FUEL's famous Sonic energy drinks are on their way to the United Kingdom very soon.
Art and culture
Moor Art Gallery will produce a series of exclusive screen-printed 30th anniversary poster art and enamel pins,
High-end fashion designer Marc Jacques Burton set to market a collection of 30th anniversary jackets, hoodies, tees, and accessories,
Global Brands Group to produce an exclusive childrens' apparel range for Sketchers to launch in Europe.
A partnership with the Moor Art Gallery will feature a brand new series of exclusive screen-printed poster art and commemorative enamel pins for release later this year.
Sonic the Hedgehog clothing is also set to expand with new collaborations, including a limited series of 30th anniversary fashion by high-end fashion designer Marc Jacques Burton. Jackets, hoodies, tees, and accessories are to be expected. They will be distributed online and through select luxury fashion outlets.
Last but not least, Global Brands Group confirmed that a new childrens' apparel range for fashion retailer Skechers, planned to launch in Europe soon.
---
Sonic the Hedgehog's 30th anniversary will be celebrated on 23 June 2021.
---
h/t Dan Barrett; press release