Article updated with new information on new patch.
Here are the official update notes for version 3.00 of Sonic Forces: Speed Battle, published by SEGA HARDlight.
Developer notes
The official notes relayed by the developer team:
The Sonic Forces team have completed an update and would like to inform you of the following changes to the game:
Two new Special Character have been added! Treasure Hunter Knuckles and Elite Agent Rouge are stealing their way into the game!
A BRAND NEW Events page has been added to the Home Screen, this will allow you to easily check on current Team Vs and Community events. Go to the News article to find out more.
Leaderboards have moved! Reach them by tapping on the trophy icon next to your player name.
An issue with notifications causing crashes on some devices has been fixed.
Fixed an issue where some characters could appear too large on the home screen under certain conditions.
On the matchmaking screen, the following improvements have been made to how Missions are displayed:
Fixed an issue where the background artwork from event missions could sometimes display during matchmaking.
Event missions that are on cooldown are no longer displayed. We've slowed down speed that Missions scroll.
As well as this some character balance changes have been made:
Zavok's Acceleration has been increased from 8 to 9.
The chances of gaining multiple uses for Dead End has been reduced, however, damage has been increased at low levels.
The duration of Invincibility has been reduced.
The duration of Power Sneakers and Meteor Charge have been increased.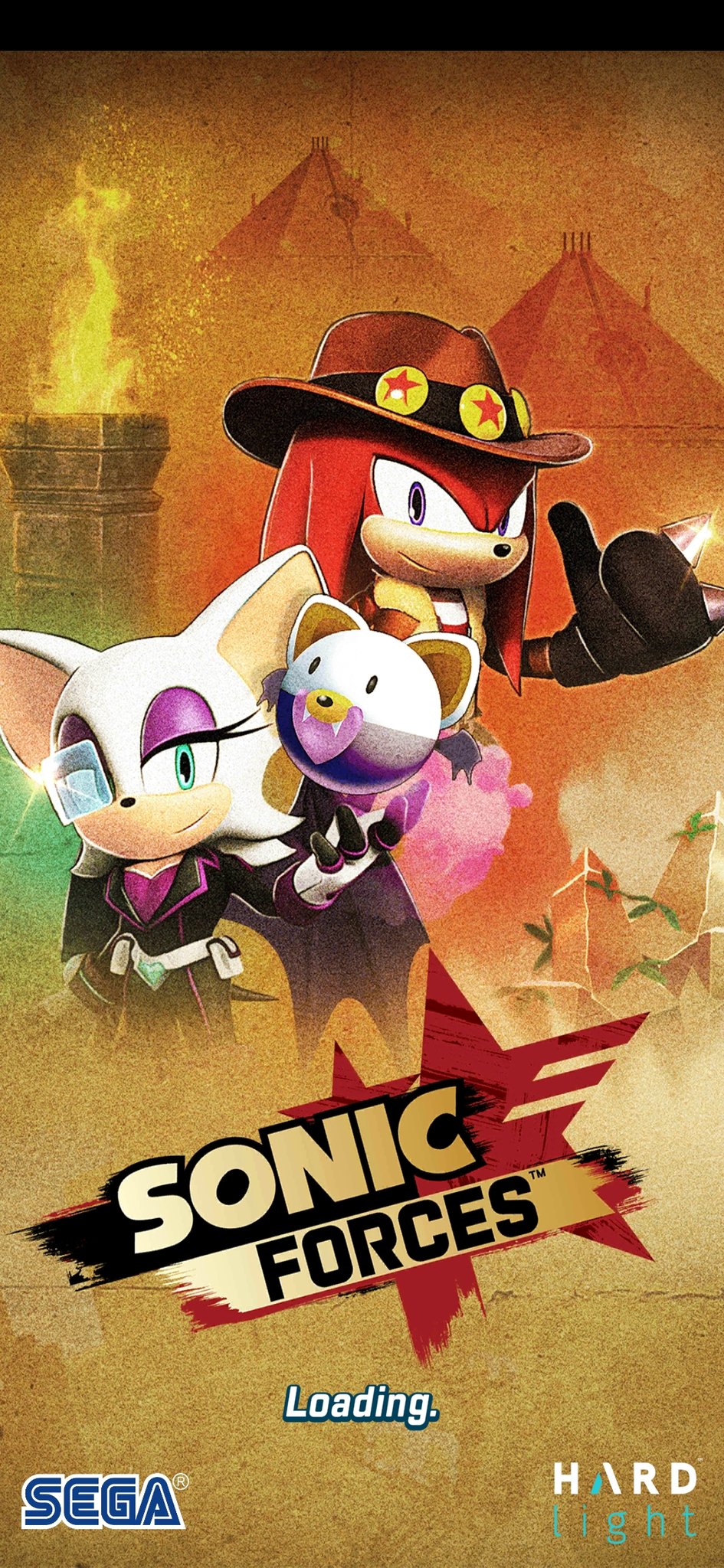 The new boot screen for Sonic Forces: Speed Battle, promoting Treasure Rivals.
Image: SonicWindBlue/Twitter
Treasure Rivals
Speed Battle's upcoming event, Treasure Rivals, was also teased. The event, scheduled to begin 8 to 22 October, will feature Treasure Hunter Knuckles and Elite Agent Rouge. Players can complete missions to earn cards of these characters.
"Choose either Team Knuckles or Team Rouge to unlock a FREE SPECIAL Runner when the event starts, either Treasure Hunter Knuckles or Elite Agent Rouge," said SEGA HARDlight in a official statement. "There will be FREE gifts of Special cards throughout the event, so make sure you check in regularly."
New items
Treasure Hunter Knuckles
Treasure Hunter Knuckles will "also be using the Lightning Item to shock Rivals making them lose their Items."
| Item name | Description |
| --- | --- |
| Rocky Road | Show off your stalag-might by summoning a wall of rocky spikes ahead of you! |
| Gold Rush | Trade treasure for tempo! This powerful boost drains Rings while in use, so remember to stock up before you use it! |
"Treasure Hunter Knuckles is rocking and rolling into the game with two BRAND new Items." (SEGA HARDlight)
Elite Agent Rouge
Elite Agent Rogue will be "using the Gold Rush and Moto-Bug Items when trying to steal to the front of the pack."
| Item name | Description |
| --- | --- |
| Rocky Road | Show off your stalag-might by summoning a wall of rocky spikes ahead of you! |
| Bat Bomb | This great gadget floats in front of your next rival, dealing damage unless they duck! |
"Elite Agent Rouge is sneaking into races with her own UNIQUE new Item." (SEGA HARDlight)