UPDATE 3:50 AM ET – This story has been updated with new information.
Speculation about a third entry in the Sonic Adventure duology became rampant after Sonic's official Twitter account was alleged of an editing mistake.
Web designer Jon Uleis discovered that the number "3" found inside a Golden Ratio featured in Sonic Official's latest Twitter post was actually left over from a royalty-free stock image. It is unknown if this was intentional; however, this is no factual evidence to suggest it teased a major announcement.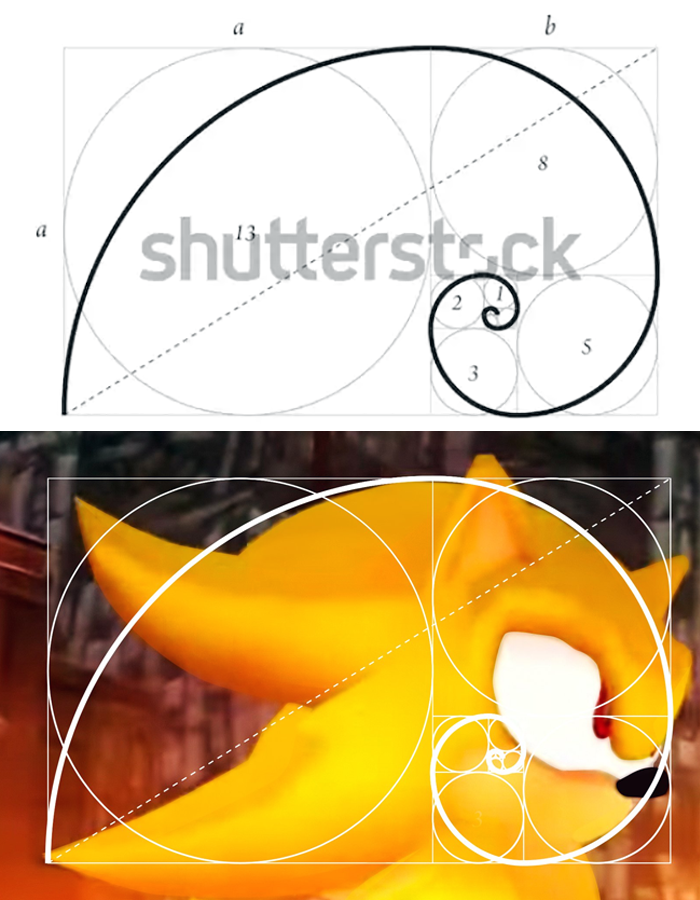 How did we get here?
Yesterday afternoon, the official Sonic the Hedgehog Twitter made a post about the Golden Ratio and Sonic's design, something that has been brought up by fans in the past.
It would have been a harmless post, but something hidden in it changed how it was perceived instantly. Fans found a number "3" hidden in Sonic's muzzle, and speculation about it dominated the fanbase.
The fact that the image contained a screenshot of Sonic Adventure and a number 3 made some fans connect the plausible dots and claimed that a third Sonic Adventure game was on the way.
When the community realized it, Sonic Adventure 3 became a hot topic, with some jokingly replying, and others taking it seriously.
This is despite the fact Sonic Adventure 3 has been rumoured to be in development as early as 2002, and Sonic Studio's Takashi Iizuka said in a 2017 interview that a Sonic Adventure 3 "might not be an advancement of the series."
Furthermore, SEGA disclosed to investors as early as May that the Sonic 30th announcements will be made in 2021, and Sonic Official's Katie Chrzanowski made the unprecedented move to acknowledge a lack of Sonic news in Thursday's broadcast. Chrzanowski announced a change in the livestream schedule, reducing the amount of episodes to monthly airings for the foreseeable future.
Communication error?
Given the history that Sonic Official had of teasing what could be on the way through cryptic messages, some community members believed there was merit in speculating the possibility of a Sonic Adventure 3.
However, Sonic Official's history of cryptic messaging has been known to backfire. In June, a rendering error in a birthday announcement led some fans to believe a "secret" was being teased. In December of last year, a series of fire-related phrases was snuck inside a year-end video. It led some fans to speculate it was related to the games.
Meanwhile, a number of community members were perplexed with the idea of Sonic Official erroneously missing a layer, and a few others continued to believed that there was more to the story.
"There's no way they didn't remove EVERY OTHER number BESIDES the 3 on accident," said content creator BillehBawb in a reply to Tails' Channel. "That would just be ridiculous."
What is the takeaway?
Knowing the imperfections of Sonic Official, and SEGA's messaging about the 2021 announcements, many fans presumed that the tweet was debunked. However, Sonic Official did not publicly reply to the recent confusion, and there is no information to suggest if this was intentional or otherwise. There is also no factual evidence to suggest the "3" is related to Sonic Adventure 3, or any other respective segment of the Sonic franchise.
---
2:21 am ET – This story has been updated to reflect that the gaffe was not clarified to be intentional, or a mistake.

3:50 am ET – This story has been updated with community reaction.