Gamefam retaliated against employees who discussed about their conditions of employment, like wages and working hours, alleged former Ultimate Driving programmer Joshua DeBoer in a legal complaint to the United States Board of Labor Relations in January 2023.
It claimed that the studio breached section 8 of the nick-named "Wagner Act", a law meant to protect employees from unfair labour practices.
---
In a thread on Twitter, DeBoer claimed he was met with "immediate hostility when trying to address working conditions", after a discussion about his rank with the company's CEO, Joe Ferencz. As a result, the programmer was suspended with pay for a week, revoked work communications, and barred to exercise stock options.
Tails' Channel understands that the case reached a settlement in late March 2023, in that Gamefam agreed to reimburse DeBoer $5,000 USD in unpaid quarterly bonuses, and to publish an internal notice about the protected rights under the National Labor Relations Act.
"We will not in any like or related manner restrain, interfere with, or coerce you in the exercise of your above-stated rights guaranteed under Section 7 of the National Labor Relations Act," read the notice.
The community reaction
After revoking a temporary ban to all Sonic Speed Simulator discussion, the unofficial Sonic the Hedgehog subreddit community again issued a new ban, permanent this time, until "SEGA decides to partner with a different developer."
"Punishing employees for discussing wages is both illegal and unacceptable," the subreddit's head moderator announced late Tuesday.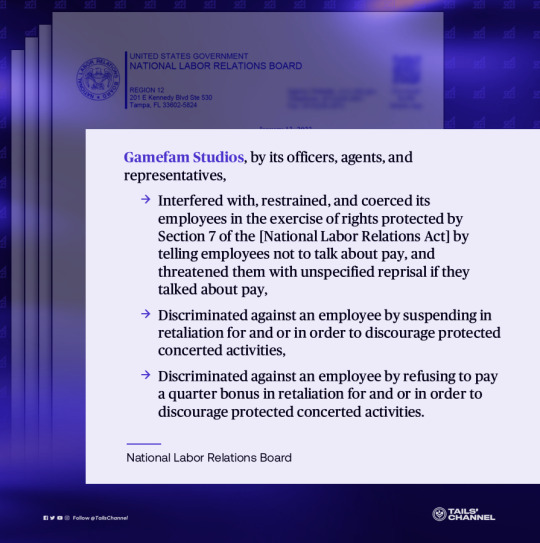 Speed Sim staff "caught in the crossfire"
When asked about the Sonic the Hedgehog community's reaction to the settlement, DeBoer told Tails' Channel that he "felt really bad" for the present and past staff members of Speed Simulator.
"They put their hard and soul into the Sonic project to make a great first splash into Roblox with Sonic and SEGA – and it showed," said DeBoer. "And now they're getting caught in the crossfire because of the generalized disdain towards Gamefam as a whole."
No response from the studio
The news followed last year's fallout of widespread allegations of discriminatory labour practices at Gamefam Studios. Sonic Prime voice actor Deven Mack were among those who voiced concerns amid the "#SonicSweatshopSimulator" trend on Twitter.
Gamefam initially denied wrongdoing, and claimed that they loved their teammates and community. The studio has yet to respond to Tails' Channel's attempts for comment.
---
Update: A portion of the story was tipped by a current Tails' Channel team member. We understand that the member was employed by Gamefam Studios as a community moderator for Sonic Speed Simulator. The contents enclosed were solely those of the individual and no other third party. In all cases, the contents did not influence the writer's editorial decision-making. Steps have been taken to separate the individual from participating in editorial decisions related to Tails' Channel News coverage of Speed Simulator. We regret the error.